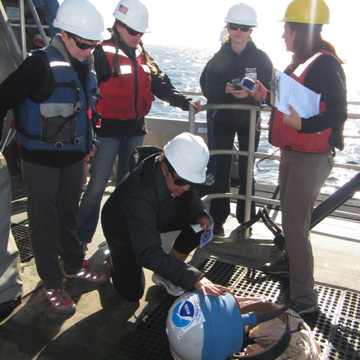 Greetings, Ocean Enthusiasts!​
Thank you for joining us at the Adopt a Drifter Program website! We are excited about your interest in accessing information about drifting buoys, otherwise know as drifters, which move with the ocean currents around the globe. As drifters float in the ocean water, they collect and transmit data about the ocean's surface. The drifter's data are sent to a satellite and made available to us in near real-time.
Drifters are continually being deployed from ships around the world. They last for approximately 400 days, unless they collide with land or their batteries fail. Each drifter receives a WMO ID # (World Meteorological Organization Identification Number) so its data can be archived. In 2005, we reached our goal of placing 1250 functioning drifters on the ocean's surface, but as the drifters go off-line there is a need to replenish the array, so we are always working on deploying new drifters!